Welcome to the Friday Rock Show Wiki
A celebration of Tommy Vance's Friday Rock Show, BBC Radio,
1978-1993, that anyone can edit
Detailed information on the legendary show
1,090 articles since May 2012
Tommy Vance's legendary show was crying out for a more detailed analysis. This Wiki hopes to provide that. Anybody is welcome to contribute. The Friday Rock Show Wiki is a community effort and your help is always very much appreciated. If you can add or correct information on any page, please click on the Edit link at the top right of each section. When you have finished using the editing window, preview and save your changes.
Basics
Make A New Page (Guides and Templates)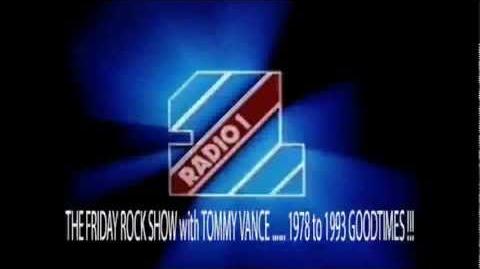 Andy Mead hosts "The Spirit Of Rock Show", a tribute to Tommy Vance and The Friday Rock Show on Mearns FM Community Radio. The show occupies the traditional Friday Rock Show slot of 10pm to Midnight on Friday nights. Andy plays the same mix of new and classic rock that made Tommy and The Friday Rock Show such an influential part of Rock radio history.
If you don't live in the Mearns area you can listen on line at mearns.fm or download the Tunein app for your phone or tablet.
"We all know and love The Friday Rock Show with Tommy but does anybody remember his Saturday Afternoon Show Rock On a magazine type show which explored all the current music genres of the day and included In Concert. It had various start times 4-5.30pm / 5-6.30pm but was a superb listen has had plenty of interviews If anybody has any recordings of these programmes then get in touch with myself eddie.harristhegreat@gmail.com or post them on Friday Rock Show Wiki Many Thanks."

Tommy Vance was born Richard Anthony Crispian Francis Prew Hope-Weston in Oxfordshire on 11 July 1940. His helming of the Friday Rock Show on BBC Radio One in the UK provided virtually the only outlet for rock and metal in the early 1980s, and his deep, rich voice became one of the most recognisable on British radio. He died of a stroke on March 06 2005.



---